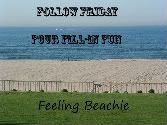 Hehehe…It's my do-over this morning since I blogly missed Friday! Oh, I read and commented. I just didn't post anything new. But I am here and all is okay. I was just in some non-cyber world things that pulled me away.
Since the Linky for it is still up, and it is for a few days yet so you could join in too, I get a second chance to post my Friday Fill-Ins! Every Friday Hilary at Feeling Beachie does four statements with blanks to fill in. Simple enough, you fill in as much or as little as you like, post, link, visit! And if you have a full Friday, you can still post on Saturday!
This week's statements:
1. Sometimes I ____
2. I ___ high school
3. Deciding what to ___________________________ before I ___________________ is such a pain sometimes
4. _________________is my favorite_________________
My Fill-Ins
1.Sometimes I wish I could have just one day where I could physically do what I could just 5 years ago to get a big chunk of my White Tornado Project done. But then I'd want it until the project was done so I could construct my own bookcases and move the heavy stuff.
2. I was a total rebel in high school. I was great at bending the rules enough that the principal would go nuts. He couldn't do anything because he never caught me actually breaking a rule. I was an Honor Roll student, which infuriated him even more and at one time I actually cited Henry David Thoreau's "Civil Disobedience" and told him I was only practicing what I was taught in school.
3. Deciding what to pack before I go away for the weekend is such a pain sometimes
4. A bracelet is my favorite accessory.