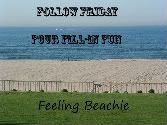 These are simple and fun blog memes that open you and your blog up to meet more bloggers, interesting and fun neighbors in the blog community! If you'd like to join in, visit Hilary's blog, Feeling Beachie, on Fridays for The Friday Follow Four Fill-In!
This week's statements:
1. I don't understand ___ and probably never will
2. I prefer ___ to ____
3. My favorite smell is ______________because ___________________
4. I suspect my neighbors of _________________
My fill-ins:
1. I don't understand how any human being can physically hurt another human being or purposely do anything that might cause physical harm, how anyone can take another's life, how anyone can psychologically or materially violate someone by stealing, breaking in to a home or how anyone can harm an animal, especially a domestic one which is probably psychological trauma to the adults and children to whom they are dear and probably never will. And the truth is I never want to understand it.
2. I prefer waking up early to see the sun rise, especially when I'm traveling.
3. My favorite smell is breakfast cooking outside because it reminds me of camping when I was child.
4. I suspect my neighbors of obsessive insanity over their yard! And as I remind David, they probably think people who leave before dawn to go photograph freight trains are insane too. But seriously, how many times a week does the lawn need mowed? And do you really need to mow in January in Ohio just because there's no snow?
I Got A Problem
Well, so far I have the cookbooks on the shelf they'll actually go on. I think. When the other shelving unit is done and the new unit for the toaster oven & coffee pot, which will move the current shorter bookcase, then I'll dust a few things, seriously mop the floor and figure out where everything's real homes will be. I do know the dehydrator will go on the bottom of the other shelf. I want it on the bottom and it's too tall for this one. We'll place the last shelf a peg higher on the other one. Right now I'm mentally working on where the two biggest pieces will go; the table and the recumbent bike.
I've also discovered something about myself. I'm a coffeemaker hoarder. Other things that I have stacks of I've had plans for shredding or Good Will for over a year. I won't call me a hoarder for having had undiagnosed MS. I just call myself so far behind I can kick my own butt. But the coffeemakers?
I had a coffeemaker that I loved for my coffee bar in my living room when I was in my 20s. You put the water in and beans in the left side of the filter and then brewed the best coffee! It was the pot we used here for a while until the carafe broke. It is a filter that without the right type of carafe won't open the filter bottom to allow the coffee to go through, which causes the filter to overflow and get coffee and coffee grounds all over the counter. Please don't ask how I know that. It's not pretty. So, I have a 24 year old coffeemaker that takes a specialty carafe. I used a butter knife and small pan for a while to make coffee, until I had a chance to find one of the three coffeemakers I knew I had in my storage unit. Yes, I said it. I had THREE in my storage unit. I put the old coffeemaker with the impossible to "just find" carafe on the table in the annex with the other appliances we didn't have kitchen room to store. I think this may be why a previous owner built the annex off the kitchen. A 50s kitchen just doesn't have the room for modern appliances!
Now, I'm not sure why that coffeemaker didn't go in the box for appliance recycling day to go away. I have a coffee grinder that I use once in a while. I can even grind beans to use in the My K-Cup filter, so I can grind for one cup and have it that fresh now. But I still have that coffeemaker.
Now, I still have and use the coffeemaker I got from storage when that carafe broke. I use it to make coffee on those occasions where a full pot would serve better than single cups. For instance when 4 or 5 coffee drinkers are here for games night or something like that. Or when anyone visits that prefers a 20-oz cup of plain old coffee to a smaller "frou-frou" cup of coffee. So, why do I need to keep the old grinder-coffeemaker with no carafe?
There's more evidence of my problem.
Next to the old carafe-less maker is a brand new Gevalia coffeemaker, still in the box, never opened. Remember I said I had 2 more in storage? This isn't one of them. Back in 2009, when Grandma was in Memory Care at the nursing home, I opened a new account at her bank to pay her bills. I got a free gift for opening a new account! I had a choice of a car emergency kit, a does it all utility knife and a Gevalia coffeemaker. I probably could have used the car emergency kit, but I took the coffeemaker!
There is also a coffee carafe that fit none of the coffee pots we have that's on the table in the annex. When I cleared out the cabinets, I'm the one that put it there and not in the Good Will box!
So, here is my fix. I'm going to put the old carafe-less coffeemaker in appliance recycling and the extra carafe and the unopened Gevalia coffeemaker in the Good Will box. I have a coffee grinder, a French press and a full size maker in addition to my Keurig. One of the coffeemakers in storage is an espresso maker, so I don't need anymore coffee appliances, just more mugs!
Thank for reading and helping me self-correct!