This is a Sponsored post written by me on behalf of Whitney Farms for SocialSpark. All opinions are 100% mine.
Let me tell you about my Dad and produce. I've said before that Pop always dreamt of owning a fruit stand when he retired. After years and years of owning a construction business, he retired from all the paperwork too. Now he works in the produce department and gardens at home. He'll be the first to tell you that the stuff he grows is better; tastes better and is better for you. Dad gardens organic.
Whitney Farms®
knows that organic is just that way; the BEST way.
Great organic vegetables and fruit begin with great
organic soil
Whitney Farms has helped make quality organic soil for over 25 years with
organic plant food
that enriches the soil. Their products have been improved to have low dust to no dust at all and they're easy to apply protein-based blends provide microbes and nutrients so they grow and thrive and there's no manure smell!
Try
Whitney Farms®
plant food today. There is a $3 coupon just a click away. You decide if you want the waxy chemical-enriched vegetables at the store or if you want to really experience the very best tasting veggies picked in your own back yard. Try Whitney Farms organic tomato and vegetable food today and taste the difference all summer long.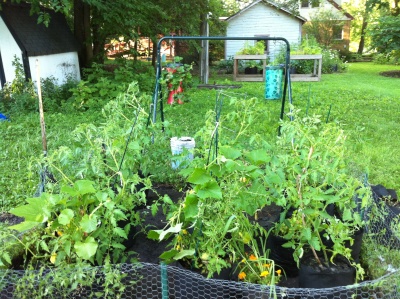 If I was putting a small garden in our backyard, it might start out something like this. I'd likely either put benches down the center and edges so I can sit to tend to it or use some plywood to make a path for the wheelchair so I could use it. What fun would there be in "having" a garden if David did all the work? I'd have a wagon for garden tools and my organic plant food that I could roll it on the path too. I'd have tomatoes and cucumbers and you know I'd have carrots!
Talk to that nice retired guy working in the produce department and he'll set you up with good veggies and fruits, but ask him after work if he gardens; then he can tell you how to get
great
fruits and veggies!
Whitney Farms®
brings you one step closer to great.