I hope everyone is having a nice Friday. I know for many this is Good Friday and the beginning of the weekend that commemorates the beginning of Christianity. My Mom became Catholic before she got married so she and my Dad could have a full Catholic church wedding. She was probably a more devout Catholic than Pop. Then again, Pop is probably the most devout American I know. If it's something you want and work for, it ends up meaning more. Many of us who still practice the religion we were brought up with or are citizens of the country in which we were born don't have the same passionate appreciation as those who embraced something different, their choice. I'm not at all saying anyone is less American because they were born here or less faithful because they never changed their spiritual path. I'm just saying that a naturalized citizen or someone who has chosen to spiritually redirect themself has a special appreciation for their status.
Mom was that way religiously. I think some of her views are why I think if you are sacrificing on Good Friday, eat hamburger instead of lobster. The church's reason for making Fridays fish days long ago was to encourage the wealthier people to support the poor. Instead of eating more expensive meat, support the local fishermen. It's definitely flipped now. So, instead of buying the more expensive seafood, support your local franchisee and the people they employ and have a Quarter Pounder. That's not my official recommendation; Practice your faith and spirituality the way that is fulfilling for you!
I'd say enough of the religion talk, but I know there's a question coming up in that area! :)
I've been a bit scarce in Blogland this week because there's been a bit going on outside of The Chronicles of Nani. There's been White Tornado stuff, a few other fragments and scrap stuff. I've pretty much adopted the challenges at
Ginger Scraps
as my main monthly challenges. I like the variety and the bonus plan is awesome! I have a couple favorite designers are there too. I still do challenges at The Studio and Gotta Pixel, but my main challenge place is
Ginger Scraps
now. So, take a look at a few challenge layouts I did in March!
April Desktop (Nani's Pandora Dreams)
Credits: template by Sugar Kissed Designs, Kit - El Mojito by Twin Mom Scraps
Here's one using the Photoblog from last Wednesday:
Kaline's Court
Inspiration Challenge
Credits: The Cat's Meow by Jen Yurko
And Finally…
Credits: Template by Twin Mom Scraps, Kit - Stippety Strpiety by Twin Mom Scraps, additional elements from Travel By Train by Volshebnica Designs, additional papers from For Us by Pretty In Green
(Title linked to gallery to read journaling)
Okay, now let's look at some of the usual Friday Fun! Let's check out the Five Questions from Mama M at My Little Life!
Five Question Friday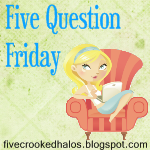 1. Would you prefer having people over for dinner or going to their house?
Actually, I'd prefer to go out. Restaurants have to be wheelchair accessible by law, so I don't risk anyone feeling bad because I can't do steps or get around in their home. Also, if I'm at someone's house enjoying their hospitality, I want so badly to help with cleanup. I can't really do that in a house I'm not familiar with because I don't know where I can grab to steady myself. Yes, that's all about me. I'm just not comfortable letting a friend or family member wait on me while I do nothing in return. I'd love to have people over…after the White Tornado project I complete. I'm still embarrassed to have the bug-guy in the house and we pat him.
2. Favorite Bible verse and why?
The verse from Ecclesiastes the 1965 song, Turn, Turn, Turn, by the Byrds was based on. It's a wonderful message, and a great song. It was the verse I chose for my Mother's prayer cards because it was one of her favorites too.
3. What was the first concert you ever attended, and the most recent one?
First concert was Kiss with Cheap Trick July 13, 1979. Most recent was Rush last year.
4. The year is 2025. What are you doing, and what have you done?
Oh my, I'm almost 60!
I tell everyone I'm 59 already, although I won't be 59 until July, and David gripes because I've always done that. He has probably told me, "Start acting your age! You're old. Be just a little bothered by it?"
I have a graphics job, a power chair and I've mastered the hand controls in my van and actually don't mind driving as much anymore. I've been doing public speaking engagements about keeping your spirit happy while facing challenges for a decade. There is decent money in the public speaking stuff and David and I have had the train layout with a house over it, including my coffee lounge, for a few years.
My face is finally starting to look like I might be able to have gray hair with it.
5. What's your favorite Easter treat?
No question; Hershey's Candy Coated Milk Chocolate Easter Eggs!
I'll try to post some more this afternoon! Everyone have a great Friday ad a wonderful Easter weekend!