Follow Friday Four Fill-In Fun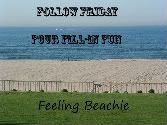 This week's statements:
1. I never ___ when I ___
2. I used to __but I stopped
3. My favorite picture of all time is of _______________
4. When it gets dark I think about _______________
My Answers:
1. I never have music on when I write.
2. I used to chew my nails all through high school but I stopped. Now I just break them with the wheelchair! :P
3. My favorite picture of all time is of Tori and Rina in Holland in 2000. This was their classic photo that was framed in every family member's house.
4. When it gets dark I think about lights.
5 Question Friday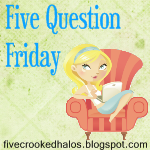 (I'm answering the parent questions from when Tori and Rina stayed with me when they were little)
1. Do you make your kids finish all the food on their plates?
When the girls were really little, I remember having to
barter to get them to finish the meat, especially Tori, which is strange enough because Rina is the one who was a vegetarian for a few years. When they were about 6, I started having them help put together the menu for lunch and dinner, making the right balanced choices. They picked out the veggies and starch to go with the meat we all agreed on. They also picked out dessert. TQM for kids – when they were helping make the decisions, it wasn't so hard to get them to eat anymore.
2. Do you give an allowance?
When we traveled or went to an event or something that had a gift shop, they had an allowance for souvenirs. We often were doing a planned activity when they were with me, so they didn't have a weekly allowance per se. When we went to The Big Pig Gig, fiberglass pigs street art in Cincinnati when they were 6, I made them their allowance in "pig dollars," which they paid for their things with. Shop owners had no trouble accepting their pig dollars and selling them back to me at the souvenir shops. That was unexpected, but cool. I had planned that the girls would give me the pig dollars and I'd make the purchase, but they wanted to make their own purchases. The people in the stores were mostly quite awesome!
3. Do you actually park your car in the garage?
Right now the Camaro is in the garage and the 2 cars that go places are in the driveway. I'm going to get it ready to sell in the next few weeks. Once it's sold, I don't now who'll be in the garage, except that is I'm still not working, it'll be David in the winter.
4. What is one food you will NEVER cook?
If I was single it would be lima beans, but David likes them so I'll boil frozen mixed veggies for him with lima beans in them, but I won't eat them.
5. Do you have anything exciting planned for the summer?
Well, baseball and more of the Heritage Units! (And anything else, I'll tell you about when we get back!
Friday Fragments
***
Heather at Acting Balanced posted pictures her young son had taken last Sunday and it made me smile remembering photos Rina and Tori had taken some 14 or so years ago.
When my nieces were about 4, I gave them disposable cameras at the Renaissance Festival. I got them developed and I was worried because they were so excited to see their pictures and I had looked at them, photos of people's legs and the counters, backs of people's heads. I was worried they'd be disappointed. Was I wrong! They shared each others pictures and identified every show that was going on behind the back of someone's head and remembered what was being sold at the booth above every wooden wall and identified every one of us by our pants!
It was amazing through a child's eyes; imperfect photos were still perfect memories.
***
Depending on when you read this, David and I might be out chasing the Norfolk Southern Lehigh Valley Heritage unit! NS is painting 19 engines to celebrate the original railroads that eventually became the majority of the NS system. Lehigh Valley was the 8th one out of the shop. 9 Heritage Unties have been completed so far.
We chased the Pennsylvania Railroad tribute engine Sunday. It was cold, windy and cloudy, but the engine was all the shine that was needed!
Okay, I didn't go out with David on Monday when he got sun and Mike, who started the day with us Sunday, went back out in the afternoon and got it in sun, but I don't NEED a sunny shot. (And the grapes are out of season right now so OF COURSE they're sour)
***
Mr. Celery has been doing well! Here he is after another week:
I got a jar of salsa that's just staring him down waiting for a dip!