Almond Easter M&Ms!
I love doing the memes I do where there are questions to answer. It's sort of a chance to "lazy blog." The questions are your topics and you blog from there. It appeals to my Leo personality; all of the me and half the work! I've been on the questioning part before and I know how much easier it is to answer than come up with the questions, so I really do appreciate
Heather
,
Suzanne
,
Joyce
,
Hilary
and
Mama M
for coming up with the questions and
Mrs. 4444
for giving the forum to share the little fragments that are left at the end of the week.
Let's get this Friday started with some Fill-Ins!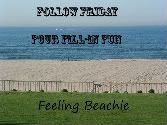 Every Friday Hilary at Feeling Beachie gives us 4 statements to complete. I love seeing how others answer the same statements. Sometimes the answers are similar to mine and sometimes we all interpret the statements so differently!
Here are this week's statements:
1. I loved ____as a kid and still do.
2. I drive____
3. I am currently reading _______________
4. I wish I could instantly have a body just like ____________
And here are my answers:
1. I loved bubbles as a kid and still do. Heck my screen saver is bubbles. We had bubbles at our wedding reception and I was known to sit outside at lunch and blow bubbles at a former job.
2. I drive as little as possible.
3. I am currently reading Dead Wood by Dani Amore
4. I wish I could instantly have a body just like anyone who doesn't have MS. (Sorry it's not a sexy answer, but it's honest!)
Now… 5 Questions from Mama M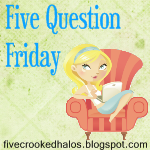 1. What giveaway would you like to do on your blog?
You mean a giveaway that's not just for scrapbookers? I do those from time to time. And feel free to snag any of my freebies to use on you blogs too.
I guess if I had more resources I'd do an occasional giveaway, maybe an Amazon card or a bag of coffee. But I don't have those kinds of resources!
2. If you had to choose between natural artistic ability and natural athletic ability, which would it be?
Easy! I think I have some natural artistic ability. If I'd had natural athletic ability I would likely emotionally be way different than I am now.
3. Do you ditch the coat the minute it becomes "spring" or are you a holdout for more cool temps?
I am in the house and wearing a sweater right now. I don't let the calendar or even the thermometer tell me if I'm warm or cold. Given the choice I'd rather be too hot than too cold.
4. What would you do if you won the mega millions lotto of 1/2 billion dollars?
Pay off all our bills, buy our layout with a house over it with a cool coffee room with pegs for all of my mugs, pay for all 7 years of college for Tori and Rina, buy David a seat at The World Series of Poker, get my power chair and a new van to carry it in with hand controls, add a chunk to my investments and call Walt Jocketty and see what the Reds need to keep Joey Votto in Cincinnati until he retires.
5. You are at a hotel by yourself...what do you do?
Relax! I've been in hotels by myself when traveling a number of times and I'll tell ya, it's fantastic! There is no more perfect alone time. I've never lived alone, with the exception of the last year in Michigan when Pop was working on the other side of the state and he wasn't home much. Still not the same as the whole space is mine. When I've spent the night alone in a hotel, all the space is mine. No one puts anything anywhere that is out of place to me. I can get a bag of microwave popcorn and a coffee and watch whatever movie I want or scrapbook or read. Maybe if I'd lived alone being alone in a hotel wouldn't have always been such a liberating treat, but I always loved it.
But I will admit now, that with the mobility issues, I'd probably be a little less relaxed and a little nervous, maybe.
And now, it's defrag time, hosted by Mrs. 4444!
***
I'm looking forward to a sponsor bonus! Miracle-Gro is sending me a small sample bag of the Expand 'n Gro I wrote about on Sunday! I've been anxiously waiting for the mail every day since they told me I was getting the sample. It's a two-way street. I'm sure to write about the success if what I plant in it grows well at no extra charge.
I'm planting celery! Suzanne at Coloradolady blogged about it
last week
and a commenter left a link for full details about
re-growing celery
. It sounded so simple and like something I'd want to try. Well, when the next day I got the chance to write about the dirt that grows and found out I was getting a sample of it, I knew I was going to try the celery!
Monday at lunch, I cut the whole end off of my celery that I bought Sunday. I usually cut the ends off one rib at a time when I eat them. I put the end in a bowl with some water in it and there is a little growth in the center already! Look!
When the dirt gets here, I'll plant it and I'll keep you posted on the (hopeful) progress.
***
May 31 is the day that Tori and Rina will be celebrated for having made it through 12 years of grade school! Thursday is a lousy night for commencement ceremonies if you want out of town family there. I'm likely hitching a ride with Pop because I want to be there for their graduation. Yeah, it's weird and don't think it hasn't made me wonder. I didn't go to commencements for high school or college and don't regret not going, but seeing the girls do it is a big deal to me. I think it's a big deal to me because it's a big deal to them. But, I don't want to miss it.
***
The last couple of nights have been rough for my throat. I'm not sure if it's spring allergies getting me or dust from the future woman cave right now. I take a Benadryl at night and I'm fine in the morning, but by late afternoon I'm sore throat and stuffy again. Bleh.
***
Less than a week until Opening Day!!!