As Friday winds down to a finish, I wanted to check in. Still looking for Friday requests for next week. It might be more bad poetry if I don't have a request – Eeks!! Actually in 2006, FBR was all about top ten lists and silly stories. I got some very serious and soul-searching request in 2007. That's what FBR is all about. It can be anything, serious, funny, though-provoking or emotional. I just enjoy the challenge of writing outside of my comfort zone or coming out of my shell.
If you are interested in checking it out, I put my first regular post in It's About What I CAN Do, my MS blog. I hope that it's good for me to write it and also good for anyone looking for some positive inspiration to read. I've gone to a couple different sites where patients can communicate and offer each other support. The problem is I don't feel any love there! There's so much gloom and depression that it starts to make me feel bad reading it. Sorry, I have challenges I'm living with and handling well. I don't want a toxic environment, so I've started the blog hoping I can give people dealing with MS, a loved one with it or just people who want to know, someplace where there actually is positive support.
It won't get easier with people saying how awful things are. It gets easier with people offering thoughts, ideas and actual support to make each day just a little better than the last. The disease isn't fatal and if I live another ten years or another fifty years, they'll be good ones. If I can give just one person with a chronic disease a better outlook, then it really does answer that "why me" question! The link for the blog is at the bottom and I'll be adding a sidebar icon in the next few days too.
David and I went to Bed, Bath and Beyond tonight to exchange the hand shower he got me for one that will work better for us. I wanted a hand shower that would still have a regular showerhead too. He's not at all fond of hand showers. They move oddly and are usually too low as a regular shower for 6'5"! We also got my wand scanner. We picked up a few other things there too. BBB is a dangerous place for the pocketbook!
I did a little work on the annex this morning, but then my back and right side just got really weak. I took the quickest shower around because I was afraid I wouldn't be strong enough to get out of the tub! So that was that for the annex for today. I listen to the body saying to take a day off! If I feel stronger tomorrow morning, I'll get back to work on it. If not, it's an all-day scrap day.
I did copy and paste into a word document the Friday Fill-Ins from Feeling Beachie last night before bed, I just haven't posted yet, so while I still have a little Friday left…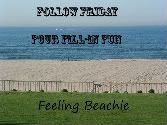 This week's statements:
1. ________ is not my strongest virtue (patience)
2. _________ is my favorite meal of the day
3. ___________ is my ____________
4. Whenever ____________ happens, I always _____________.
Resisting temptation is not my strongest virtue. I keep the basket with the last of the holiday chocolate behind my computer screen, but I can still see that red bow on top of it and I always end up having a couple pieces with my evening coffee. I have the points in the day to do a couple small pieces, but I wish I could resist better.
Breakfast is my favorite meal of the day, usually. It's the one meal for which I'm not so busy I can't make it a nice meal. Lunch is usually a quick cup of soup and raw vegetables, because I don't even have time to cook and by dinner, the day is wearing on me and I make something good, but quick. David has much less adventurous taste than me, so dinner tends to be a little more ordinary too.
Scrapbooking is my stress relief. Yet I'm a couple years behind. Tells ya something, huh?
Whenever frustration happens, I always look for the fastest way to regain total control.


And so another week is done!