Another fun week in Blogland is drawing to a close. I've gotten pretty good with checking in, even just for a meme and a moment, daily. I wanted to do that for a while and I hope I can keep it up when my house project is done. We won't have to worry about that for a while. But scrapping and blogging do a great job of getting me a good rest when I need it during the day and keeping me away from food! The exception being that the fruit basket and my laptop share space in the dining room. But the fruit is a good thing! Better than overdosing on M&Ms!
Right now I'm taking a rest between jobs for the day and the big bag of pretzel M&Ms and my last Ambrosia apple are fighting for my attention. The M&Ms are on my right and the apple is on my left which is totally skewed from the classic devil/angel scenario. I didn't have milk stuff at breakfast because I cooked hot breakfast, eggs and sausage. I should probably have yogurt. I don't have enough shoulders!
I decided last night that since I'm just stronger and more coordinated in the beginning of the day, I'd assemble the bookshelf during the day. It's never going to be upright before it's finished (I assembled the other one just like it upstairs a few years ago) I could sit on the floor and assemble it. That's what I'm doing next. David said to assemble what I can and he'll finish it when he gets home tonight. I hope all he'll have to do is upright it and put it in the annex. We'll see how much I can finish before another break-time!
Before I get working on the bookshelf, I want to do this week's Friday Fill-Ins.
Follow Friday Four Fill-Ins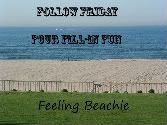 Every Friday, Hilary at Feeling Beachie posts four fill-in statements. It's fun to read everyone's answers and see how different they all are! I copy the statements and answer before I read Hilary's. It's not a meme that requires lots of time to participate and it's fun! Stop on over and join in!
This week's statements:
1. Nothing is better than.____
2. I ___my ___ in ___but never ____
3. Those _____ that are always _____ make me want to ___________
4. My favorite _________________ is when __________________________.
1.. Nothing is better than the feeling of accomplishment when a project is complete.
2. I love my furry slippers in the morning but never find they're quite warm enough at night. :(
3. Those Humane Society commercials that are always so sad make me want to adopt about 6 more cats! Scotty already refers to David and me as "That couple with the cats" because we had four at one time. We had all four cats for a while at each of our houses, but never as a permanent residence. Three has been, and is planned on being again, the highest number actually living with us.
4. My favorite coffee time is when I meet friends for coffee and we have no plans for after.