Top of the afternoon to you! Hope you're having the "Luck o' The Black Cats" today. Last year just before the Friday the 13th in May, Kaline declared Friday the 13th a holiday for everycat. "We're all Black Cats on Friday the 13th." I'm not totally clear, but much like the offices are empty at 5:01 on March 17th, the Catnip bars are full
aft
er all day on Friday the 13th. Right now, our 2 black cats for today, are napping so they can party some more later!
Maybe that was Barbara Ann's problem in the Friday By Request story this week. She went on that doomed date on Friday the 13th. I hope you got a chance to see the (best of) Friday By Request this week. It really is a very versatile challenge. You can request almost anything!
Kelly and her Dad got home safely. Kel called me last night at 9:40 to let me know they'd gotten in. I was glad the trip was only minorly eventful as far as the weather goes, but I am a little disappointed that the 1-3" overnight turned out to be a little more than a dusting, not even an inch, though. Not that I like the snow in even the smallest, miniscule, teeny tiny smidgen of a way, but Kelly and Dave left earlier because of the weather. I don't like it when Murphy and Ma Nature gang up for a collective raspberry!
One thing we did do while they were here, I helped Kelly set up her very first blog! She's at Coffee Cup Crafts and Christianity, http://coffeecupchristianity.blogspot.com. Her place is still under construction while she's moving in, but she's put up a few things and a couple short posts. Stop in and say hello!
I know once Kelly is moved in and posting, she and I will be trading links. If anyone else is interested in a link trade, let me know! You can grab my blinkie, if you right click and go to properties you can get the URL for the blinkie on the web or you can right click and save image as to save it to your computer. I'm a little rusty on Macs because I use a windows operation mouse on my Mac too. I just really prefer the windows mouse. But I think you can just click and hold to open in a new window for the URL and save to desktop to put it on your hard drive. Drop me a note at chroincilesofnani@gmail.comn and let me know your blog address for the trade!
A BIG THANK YOU to Kelly and Dave! While they were visiting, much as I said that I didn't want housekeeping help while they were visiting, Kelly did laundry, which I put away this morning, and Dave installed the hand shower that David and I got when we exchanged the one from Christmas at Bed Bath and Beyond. This one is both a regular shower head and the hand shower, with many spray levels including 2 different levels of fire hose!! Mmm…showering is fun again! Thank you so much guys! I'm not mobile enough to even think of doing both in one week, let alone one day. With the stairs and all, Kelly did the laundry in one day that I do all week! I am blessed with the most awesome family I could dream of!
Okay, that's what's going on here for now. Back to Grandma's last box in the annex. We're almost ready to bring down and assemble the shelving unit!!
Friday Four
I leave you with my replies from Friday Four Fill-Ins at Feeling Beachie. Won't you come over and join us?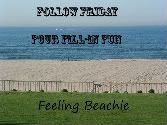 This week's statements:
1. I have never eaten ___
2. I like to ___ in ___
3. If I could go back and change one thing, it would be _______.
4. My greatest _____ for my ______ is ______.
I have never eaten headcheese and I never will! It grossed me out when I worked in a Deli when I was 16 and it's still just too much obvious pig leftovers to fathom trying today. I prefer my "snouts and tails" hidden in a tasty hot-dog!
I like to have lots of blankets over me in bed!
If I could go back and change one thing, it would be nothing. I believe that changing anything would alter the present and I like the things in my present of which II had the power to control the outcome.
My greatest reason for my optimism is my spirituality and my wonderful family of relatives and friends.