Happy Friday everyone! It's been a busy week for me. It kicked off busy still at SEMMantics and now is my rest day!
I had planned to attend the e-reader talk at SEMMantics Sunday morning after breakfast and then leave the gathering after awards and announcements, but the day changed when David received a call about a Norfolk Southern Heritage Unit we hadn't seen yet. Then the word out was to call if when it was close to Detroit so we could plan a course to intercept it. Fortunately the e-reader talk wasn't as informative as I'd hoped it would be because that call came in the middle of it and David came in and pulled me out so we could chase. I'm so glad we did!
This is the paint scheme of the Norfolk Southern that was part of what went on to become the Norfolk Southern of today.
Let me get a cup of coffee and get on with the Friday features.
Friday Fragments
Join Mrs. 4444 at Half Past Kissin Rime to defrag your blog of those little fragments that are worth mentioning but just aren't involved enough for a full post!
**
I had a good weekend for games at SEMMantics this year. First in the Poker Tournament I finished 6th. I won the tournament in 2009 and while there was no SEMMantics in 2010 because the National gathering was in Detroit that year, I've placed better than David in the last two. I'd say my married poker is pretty good. I was telling David the difference between our playing at the Mensa tournaments is that he plays more aggressively because he wants to win. I play more conservatively because I just want to last longer than him. My strategy serves me well!
We played
Carnelli
for the first time this year. (Follow the hyperlink to see what the game is all about) It was so much fun! I'm sorry I hadn't played it before, but I'll definitely be playing it from now on! I came in a certificate-earning second place. Not bad for a Carnelli-virgin!
**
If you are a Friday follower but not a weekend follower at The Chronicles of Nani, you may have missed the sad post on Sunday, Bi
g Salsa Tears
. There is no Mr. Celery update this week.
But there is news on the dirt front! As I mentioned before, I'm going to mix the Miracle Gro potting soil with my concentrated dirt with the Expand N Gro, because I've discovered that when I'm growing something from scratch, I'm just not good at ignoring and not watering it. I need soil that dries out a little in the house so I can nurture. The mix with the Expand N Gro will be prefect for inside! That will be a project this afternoon.
When we did the groceries at Meijer, I passed the seeds the way to the shampoo section of the store and I picked up a pack of basil seeds. My staple spices for almost everything are garlic and basil and the smell of growing basil in the annex to the kitchen would be marvelous! That and I can already taste the fresh basil with asiago cheese and fresh tomatoes from Pop melting on and cooling hot pasta this summer. Mmmm….
**
I went in for my procedure on the cyst yesterday. I was all prepped longed back on the operating chair with a fashionable blue paper vest exposing the area around the cyst. The doctor came in and asked me where the cyst was.
He told me it had shrunk significantly from applying heat every night and he thought it was a better idea to keep applying heat and see if it finished healing on its own. He did offer that he'd go ahead and take it out if I wanted him to. "That's how I make my living and I'll be happy to do it if you insist." But he said there really was no reason tight now to cut into me. If it grows again just call and they'll schedule the procedure again, no need for a consultation.
**
Live baseball season has definitely started this week! When we got in Sunday afternoon, David saw a Facebook post from a friend offering his season tickets for the game free to a good fan. Sometimes spontaneous if good! The Hens lost, but it was still a good time. How can you NOT have a good time at a baseball game?
After my Cleveland Clinic appointments Tuesday we saw the Akron Aeros take two from the Erie Sea Wolves. It seems that this year we aren't the kiss of death for the home team like we were the first half of the season last year, but we are bad news for the Tigers farm teams! We're going to stay away from Comerica Park until we have this resolved! I'm dealing with enough with the Tigers and Reds both in second place. Second?? We must eradicate the Indians and those pesky Cardinals!
** Breaking Fragment **
David just let me know he opened the windows upstairs. It's 43 degrees! And he's leaving for work, so the frigid house is all for me. –grumble, grumble—
He says the high will be 70 today. Actually, it's going to be 73, but right now it's below freezing colder than 73! He laughed at that analogy. But, it is a pretty substantial difference! I mean 58 is freezing lower than 90 and while 90 is hot, I don't want to be wet and naked when the windows in the bathroom are letting in 58 degree air! It's even more true at 43, only eleven degrees above actual freezing. I'm going to just stay downstairs in my plush robe until it's safe to crawl upstairs and shower.
5 Question Friday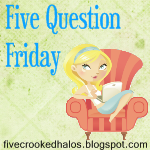 Joining Mama M for morning coffee and blogspiration again!
1. What advice would you give a couple getting married?
Elope!
Seriously, my advice is to spend more time thinking about and planning the marriage than the wedding. The wedding is one day, ideally the marriage is the rest of your life. It deserves more attention and resources than a party. I've been to too many overdone weddings that end in a divorce less than 5 years later. To me, that's money wasted on the wedding.
Off Anti-Wedding-Industrial-Complex soapbox now.
2. If you could tell your 16 year old self ONE thing, what would it be?
Don't be too proud and go to college right after high school whether or not you can afford it on your own. Accept help when it's offered.
3. What do you do to keep cool in the summer? (AC, windows, fans, swimming, etc.)
When it gets really hot, I switch to iced coffee, but with air conditioning in the house and everywhere, I don't often have a need to keep cool. I actually will sometimes go out for a drive just to have the windows open and get out of the air conditioning. So, I guess I'd say air conditioning, except that I'd use it a lot less if I was on my own. But I'd still use it when it really hot, set at about 72.
4. What did you (or your wife) crave most while pregnant?
Are we talking baby spiders here? Never had a wife (shamefully illegal here) and never been pregnant.
5. Who is your favorite TV mom? Why?
Golly, I don't have one. I really don't watch that much TV.
Follow Friday Four Fill-In Fun
I love reading these after I'm done with mine to see how differently we all interpret the statements! Come join Hilary at Feeling Beachie for this quick and fun meme!
This week's statements:
1. In the summer ___
2. I always ____ when I___
3. Reading ___ makes me ____
4. I like to live _______ because _____
1. In the summer I am happiest of all!
2. I always use a pasta bowl when I eat spaghetti. David prefers a plate.
3. Reading personal messages added to greeting cards makes me feel loved.
4. I like to live in an uncluttered space because my living area has always been a reflection of my state of mind. My living space is never in perfect order and it's always been busy, but every now and then I completely clean and organize things to keep my mind calm and centered.
** Another Breaking Fragment **
The toilet paper in the downstairs bathroom was half-unspooled! We've never had a toilet paper playing cat before, but we're on the lookout now. Hopefully only half unspooled means it wasn't as much fun as it seemed and it's a one-time thing!