So let's get into some Friday fun, shall we?
Five Question Friday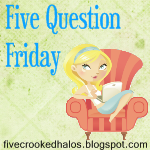 1. Did you do anything special for your kids on the last day of school? Or did you parents do anything special for you?
Nah. My Mom worked mornings during the school year and the last day of school was usually a half day so we got ready for the summer on that afternoon. We made sure Dave and I had our summer passes for unlimited swimming at the high school, were signed up for vacation Bible School and we all agreed on what our allowance was for crafts and baseball cards. Okay, I'm the one who budgeted every week for baseball cards, but I needed to know what I had to budget. Most of my jewelry and gifts all summer were from Arts and Crafts at the middle school. Southgate was an awesome place for kids in the summer.
2. What's your favorite summer tradition with your children?
My nieces and I used to make picnic lunches and go to the park to picnic and play almost every weekend. Last week they told me they won't eat chicken salad any other way than the way we always made it.
3. What was your favorite thing to do during the summer as a kid?
See above? Swimming at the high school, arts and crafts at the middle school, Vacation Bile School at the Baptist church and collect baseball cards. I never turned down the chance to go see the Tigers.
4. How old were you when you were married? Were you a Bridezilla?
I was 42. We eloped. The only thing I was even close to bridezilla about was the cake for the reception. I didn't want a plain sheet cake which is normal for baseball picnic catering.. I wanted a baseball-wedding cake. Haas Bakery in Toledo did a fantastic cake that tasted as good as it looked!
Credits: With a Cherry On Top by Veelana Designs
5. What is your favorite girl name? (I'm needing suggestions.)
When I was in high school and everyone talked about baby names, I chose Miranda Scarlett, a literary name after Miranda from Shakespeare's The Tempest and Scarlett O'Hara.
Follow Friday Four Fill-In Fun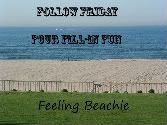 This week's statements:
1. When I ___ I ____
2. I wish I was ___
3. If the world is my oyster then _________________
4. My favorite meal of the day is __________ and the food I think would be my favorite to eat then would be __________
My Answers
1. When I feel blue I look at my scrapbooks.
2. I wish I was just over half my size!
3. If the world is my oyster then I'm in trouble because I don't like oysters.
4. My favorite meal of the day is breakfast and the food I think would be my favorite to eat then would be granola, yogurt and a latte. But granola can be very fattening and very addicting. So granola in the house is a once in a while treat. I usually get Caramel Pecan Kellogg's Fiber Plus with almond milk. YUM!.
Friday Fragments
**
I've been really appreciating the comments I've gotten this week! Thank you all so much! The next fragments will answer a few of the questions I've received.
**
The Sweetest Thing
came out in 2002 and stars Cameron Diaz and Thomas Jane. I confess I rented the movie after falling in movie star crush with Thomas Jane after seeing him in The Punisher, another awesome movie if you like comic book movies. It is a crazy funny movie. If you pick up this one to watch, and you're not sensitive to sexual jokes, make sure you get the Director's Cut with "The Penis Song." I laughed hysterically
**
I was so happy to receive some very nice comments to yesterday's post. Whew! I don't write political content on my blog often and of course anything negative about religion is touchy. Even more so for me because my religion teaches tolerance of other religions. But I do allow myself that gray area when religion is used for hate, I'm not sure that I recognize it as a religion anymore. It's just a hot button for me when people are being denied basic rights for no good reason. This country was formed to stop that.
**
By the way, in response to the question about my home state. I'm not at all from Washington. I'm in the backwards Midwest in a state that has great theme parks and hate speech written into our state constitution. I support equality even more because I'm ashamed.
**
There are four things you can ask me to post a picture of and I'll, beaming with pride, happily oblige. Those photos are ones of my nieces, my cats, our wedding cake and my trains. Mama Hen left a request to see a couple of trains this week. I'm proud of how my shot composition has improved since my "Railfan Intern" days. David has been a wonderful influence on my photography work!
Amtrak in Tipton, PA, May 18, 2012
CSX train in Deshler, OH, May 20, 2012
Okay, blog defragged for another week. Have a great weekend, everyone!