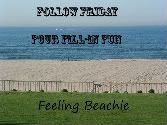 This week's statements:
1. I love a ___
2. If I could ____ anywhere I would ____
3. When I grow up, I want to ________
4. the best _________________ I ever ____________________
My Answers:
1. I love a purring cat that's in the mood to cuddle.
2. If I could have alone-time anywhere I would spend it on the porch of a secluded cabana on the Atlantic Ocean at sunrise.
3. When I grow up, I want to have a lot more money!
4. The best fireworks I ever saw were last year at Great American Ballpark in Cincinnati. The Reds' Friday fireworks are the best ever. Brilliantly choreographed to the music, they are amazing!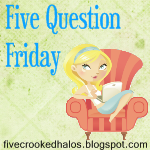 1. What do you keep a stock pile of?
Zip-Loc bags and the like. I use them for everything from storing food, to storing craft supplies to separating and organizing things to be scanned. If I find them on sale, or if I find the tiny zipping bags at a dollar store, I stock up!
2. If Ben & Jerry asked you to invent an ice cream, what would it be?
Considering that Ben and Jerry's already makes my "go-to" flavor, Cherry Garcia, I guess the ultimate flavor would be if Cherry Garcia came in a chocolate base, so Chocolate Cherry Garcia.
3. How do you blow off steam?
I usually write in my personal journal to blow off steam.
4. What would you do if you had an hour to yourself anywhere within a ten mile radius of your home...no kids, no hubby, just you?
I'd take my Nook out to lunch, probably Cracker Barrel, which I've often done before. (only in the past it's been with the Kindle, paperback or a textbook.)
5. When you were 16, what was your curfew in the summertime?
Summer and weekends it was midnight at 16. It moved to 12:30 at 17 and no curfew at 18, with the expectation that we'd extend the courtesy of giving our parents an approximate time we'd be home.
**
I know there are those who dislike music on blogs. I'm not one of them. I enjoy stepping into someone's cyber-living room or cyber-kitchen and hearing their favorites playing. It's another part of the person and the world of the person writing the blog; it's part of their personality. Sometimes if I have more than one window open playing music, I'll employ the mute button, but usually I enjoy the sounds of the blog I'm reading.
Blogland is pretty quiet these days. Playlist, the blog-music source for many of the blogs with music I read, has stopped hosting music outside of the playlist site. That's a shame. I've become acquainted with many new-to-me songs from other blogs. My exposure to new music is limited if I'm the only one making the choices!
**
I've been suffering from a little blogger's block lately. I have a ton of things I want to write for the Chronicles of Nani as well as for my MS blog and Kaline and Carla have some things they want to add to their blog too. I just haven't felt like writing! If it feels like a chore for me to do, it just won't be a quality I am proud to publish on my blogs. This too shall pass; stay tuned for a rush of entries when my brain is ready to write again!
**
I've also had "spender's block." There are some things I really do need to purchase and some things I really want, but I get as far as looking and planning to buy and then stop. I even have prescriptions that I ordered but since I'm not out of them yet I haven't picked them up. I think spender's block is a normal post-vacation stress disorder!
**
I bought a light blue t0shirt at The Wright Brothers Museum when we visited last week. They did have a green one, but I decided to try a new color. I have other colors too, but my usual choice is green so there is a lot of it in my wardrobe. I wore the shirt yesterday and I noticed that my eyes still are unquestionably green. It reminded me of when I was 15 and my blue eyes transitioned to green. When I wore green, my eyes appeared green, but when I wore blue, they still looked blue.
My brother's eyes changed in his early 20s and I think Tori and Rina both have green now too. Adults with green eyes usually had blue eyes as children that changed over in their teens to 20s. I still think I look better in green, purple or a darker blue.