It's been a busy, busy week this week and my schedule is still very full! I'll be getting to catching up with reading, commenting and regular blogging next week. Today, "Briefly, Friday" means I drew one random meme that I usually do as my "hi, still here" and my version of normal will return next week. Stay tuned!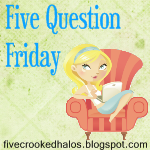 1. Would you grow your hair out to donate it?
Absolutely! I donated 12" and 2-10" ponytails to Locks of Love in 2009 and I'm thinking of growing it out again.
2. What song makes you think of summer?
Any classical symphony with lots of strings.
3. Are you a flip flops or sandals kind of person?
I'm a bare foot gal.
4. Favorite summer treat (ie ice cream, snow cones, etc)?
Baseball nut ice cream in a waffle cone or something chocolate in a pretzel come
5. Do you do something special for the father of your children on Fathers day?
I guess I would, but I don't have any children.